65 percent of us are visual learners–that means no one will read your long blog post. According to science, using these 7 types of visuals will make your content more memorable.
Most readers won't get past 50% of your article. However, most of them will read through content that has videos and images to break the (UGH) monotony of reading.
The key takeaway here is that most people will likely read your content if it's more visual because it's easier to digest.
Today, we present to you:
7 Visuals That Readers Will Stick Around to see:
1. Graphs and Charts
Graphs and charts are great for creating data-driven posts. Backing your arguments with data and facts can help you become a respected voice in your niche.
Your ethos (essentially your credibility) is an important thing for people to perceive from your content.
Not only are graphs and charts awesome for creating data-driven posts, they also drive a high number of trackbacks to blog posts as people see graphs as representations of authority.
According to QuickSprout, posts with graphs and charts on average "received 258% more trackbacks than blog posts with other types of images."
2. Photos
Photos are great for bringing your posts to life. Afterall they are worth thousands of words. Including relevant and high-quality photos in your posts will not only make them visually appealing, they'll make them more memorable as well.
According to Brainrules, we are 65% more likely to remember the content we read if it's paired with a relevant image.
"We are incredible at remembering pictures. Hear a piece of information, and three days later you'll remember 10% of it. Add a picture and you'll remember 65%."
65% of the #population are predominately #visual learners--take advantage
Click To Tweet
3. Videos
Videos continue to explode. Video content is so effective that 48% of content marketers plan to add YouTube to their distribution channels next year.
Adding videos to your blog posts will make them more dynamic. However, simply adding videos to your written content for the sake of adding won't make much difference.
A video you include in your content must either summarize the content or compliment it.
4. GIFs
GIFs are awesome! On Edgy Labs, we use GIFs a lot in our content. You can see an example in this article. We do this because they can elicit laughs, they can demonstrate ideas, and they're widely accessible and typically open to fair use principles.
For example, GIFs can be used for product demonstrations, visual demonstration of theories and also as a humorous touch to a piece of content.
Pucker up (unless you hate cute things).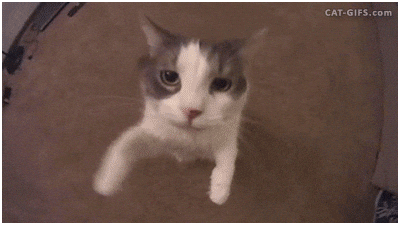 5. Memes
Don't be too serious about your content. It might end up becoming rigid and boring.
Instead, find ways to keep your content engaging and entertaining. Afterall, everyone needs a good laugh.
A sure way to do that is to include one or two relevant memes in your content. Memes (see memetics) are great for making articles light-hearted.
Question memes often work very well. They are good content enhancers for building up arguments.
6. Infographics
An infographic is a visual representation of information or specific, hard data. Infographics make information very easy to consume hence the insane popularity with marketers.
Check out this awesome infographic about Bitcoin.
Most people won't make it through a 2000-word article, but they will likely make it to the end of an infographic. This is why infographics are among the most shared content on social media.
7. Screenshots
Screenshots are great for demonstration. If you're creating a tutorial post, it's always best to include screenshots of the step by step process. It makes it easy for your readers to follow along.
In addition to being useful for demonstrating step-by-step tutorials, screenshots are also useful for sharing information which otherwise would be private with your audience. An example is your traffic or social media stats.
Which of these types of content do you use in most of your content? Do you notice a clear difference in content performance between your visual and less visual posts?