Toy makers have patented a new somatic controller technology for their next drone. Will this have implications for how we use our bodies to interact with electronic devices in the future? 
The Aura drone recently made its debut at the New York Toy Fair 2017.
Click To Tweet
Put Your Hands in the Air
The Aura Quadcopter recently made its debut at the New York Toy Fair 2017.
Drones are steadily becoming household items for gadget freaks and selfie enthusiasts alike. From the Yuneec Breeze to the DJI Phantom 4, professional imaging from the bird's eye view is available to everyone able to spend more than $500 USD. This is the kind of practical technology that can turn a two-mile hike into a tantalizing wilderness excursion.
However, the Aura drone stands out. It is controlled by hand gestures instead of a traditional controller. The glove sensor technology, patented as Gesturebotics by LocoRobo, was inspired by military applications.
The glove controller is intuitive and makes piloting more accessible for people who may have difficulty guiding their drone with traditional buttons, switches, and knobs. The Aura drone also has headless mode, meaning it will go in whichever direction you point despite where the drone is facing.
Of course, the Aura drone is just a toy, and it is still in its late the prototype stages. Despite how much fun it is controlling your drone by hand, you will only have 8 minutes to do so before the battery dies. It seems that sustainable and energy efficient battery life is always the trouble with emerging tech, and hopefully, the Aura drone will solve this inadequacy before it hits the market next year.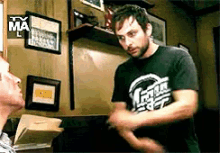 Once it's ready for mass distribution, this will the perfect toy for air traffic controllers, orchestra conductors, and rave kids who still dress like they are from the movie Hackers.
Aura Drone: The Future of Psychic Abilities?
Fun and games aside, the implications of the Gesturebotics controller mechanism are significant, and have the potential to impact future tech beyond toys and even drones.
The glove controlled technology doesn't have to go much further to make every human seem like a super hero.
If the same signal-relay communication technology could be embedded into any object, humans would basically augment themselves with telekinesis and levitation powers.
For example, if instead of the glove we had a neural uplink or a subdermal implant, the right sensors could be embedded in any object. It also has the possibility to link up with the IoT and influence more than one type of device.
Of course, objects are made of a variety of materials and a myriad of different designs. We would love to just slap a receiver on the coffee table and move it with our minds- but this drone weighs practically nothing.
With scalability in mind, objects within a certain weight and material class could benefit from tech-induced telekinesis. Imagine a warehouse where nobody every strains their back.
Edgy Labs Readers: How much further do you think we have to go before our bodies can control more than toys and games, and are used in more far-reaching applications?